Live our land with us… 
Visit the wineries of Chianti Classico, Brunello di Montalcino  and Nobile di Montepulciano, enjoy the taste of a unique wine. You will be able to visit small and large wineries, to visit vineyards kept as gardens. Visit the vineyards and discover the art of wine as it was once … but that is also still.
Chianti Wine Tasting Tours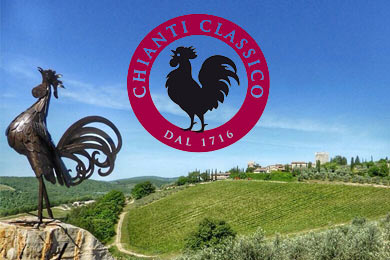 CHIANTI CLASSICO
The "Chianti" is a land with an ancient winemaking tradition of which there are Etruscan and Roman. The first documents in which the name "Chianti" identifies a production area of wine (and wine product) date back to the thirteenth century, and refer to the "Chianti League" founded in Florence to regulate relations with countries Radda, Gaiole and Castellina, current municipalities that make up the original area of the "Chianti Classico" that its capital is the country of "Radda in Chianti". The "Black Rooster" on golden background is the emblem of the consortium of "Chianti Classico" which protects the exclusivity. Not having a sufficient production to meet demand has been extended the opportunity to produce the wine "Chianti" in the provinces of Florence and Arezzo as well as to other towns of Siena, always respecting the grapes and methods used in the original Chianti. This clear wine, deep ruby color and deep distinguished by floral notes, harmonious and smooth you will love even more of this territory which is unique in the world.
---
Our Tours
Wine tours Gallery